People may have been doing some form of sponsored content or another for decades (John Hill was paying a freelance journalist to write op-eds friendly to his client, for example), but no one came close to the entire sponcon system Herb Schmertz created for Mobil. Sponsored content is exactly what it sounds like, content a company sponsors. It's generally labeled, but a lot of viewers and readers miss that part. Sponcon can include everything from advertorials to placed op-eds to underwritten film, TV, and radio programs.
Industries that use or have used it: All of them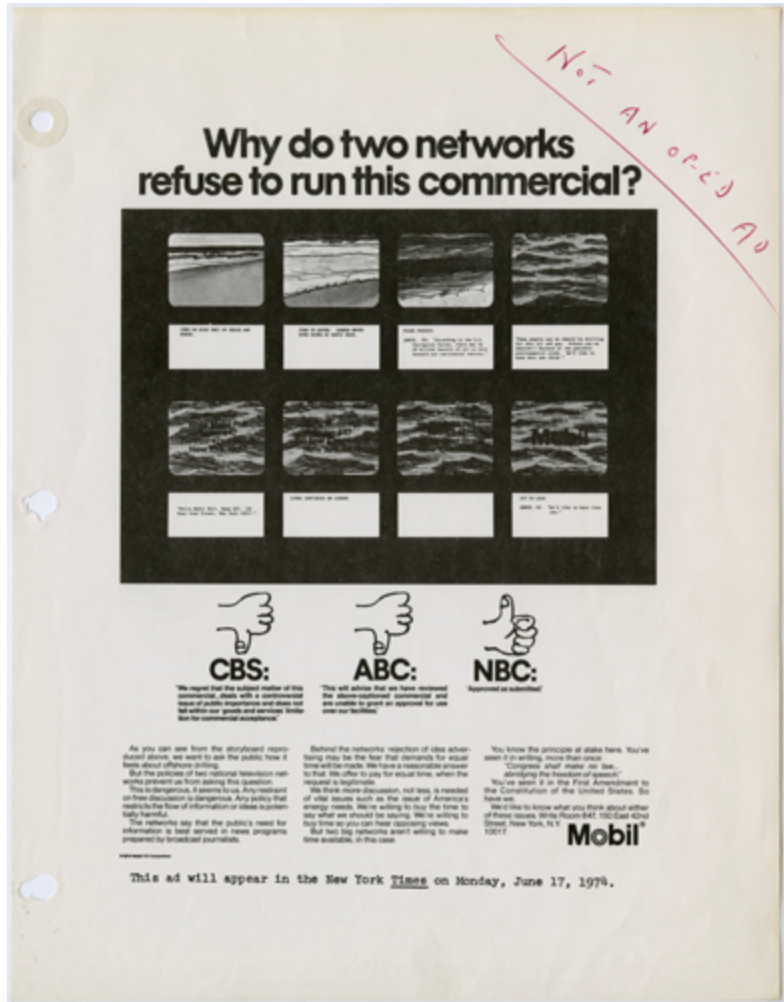 Examples:
Mobil's weekly advertorials in The New York Times
Chevron's sponsorship of National Geographic documentaries and Bill Moyers' docuseries
Mobil's underwriting of Masterpiece Theatre
Standard Oil company's commissioning of Louisiana Story
When in doubt, start your own publishing company
It's not just companies that got into the SponCon business. In the late 1990s the conservative Bradley Foundation funded the creation of a new publishing house for the conservative movement, called Encounter Books. In its 20 or so years of existence, Encounter has really grown into its role as the nation's rightwing publisher. It publishes books from the Cato Institute, Manhattan Institute, American Enterprise Institute, and its board meets regularly to discuss books that might help further certain conservative ideas in the public—not all of which have been pitched to Encounter, sometimes they'll go on a hunt for a book about a particular topic. When Encounter was first started, Bradley was not necessarily a huge player in national politics. Headquartered in Milwaukee, it mostly focused on Wisconsin concerns, funding school choice and anti-union initiatives, plus a lot of local art programs. In 2013, though, the foundation came into a large sum of money from one of the last remaining Bradley family members. They hired several consultants (including Rick Berman) to advise them on how best to make that money work to build conservative power, and in the years since they have funded more organizations and initiatives than the Koch universe with far less name recognition.